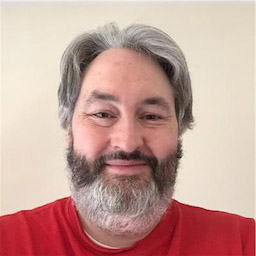 Hello, my name is Stephen Rushe and I drink tea, love cats, and provide sarcasm-as-a-service. I'm also responsible for Cricsheet, a project to provide ball-by-ball data for cricket.
You can also find me elsewhere:
Recent entries
My wife, before the ongoing Houston - Kansas City game, had successfully picked 5 out of 6 NFL playoff winners. I wasn't going to mention it, however she did pick the Texans who are now 14 points up 😳

As part of our Christmas TV viewing @manyhues and I are rewatching the Ultraviolet TV series from the 90s. It holds up well, and was the first show I ever saw Idris Elba in. He is so good, especially in the scenes in the warehouse where he is magnificent.

TV signal has been lost. We're facing the very real prospect of having to talk to each other over Christmas!

Just submitted a bug report for the @NetNewsWire iOS beta. Despite the rough edges it's so nice to be able to use NNW again.

If your "podcast" is only available directly on your website, or via your app, and doesn't have a feed I can put into my preferred player (even if it's password protected), then it's not a podcast. This is an unimportant thing I have strong feelings about.

Hello @github 👋 Hello @natfriedman 👋 Last night I started a new personal project, went to push it to a repo, and then remembered that you still work with ICE. I created the new repo in GitLab. I'll probably create all new repos there from now on.

My regular morning check shows I've still received no response from @github or @natfriedman to my ICE question. Good thing I spend some time last night playing with @gitlab. It's noticeably slower than GitHub, but it's doesn't work with ICE (that I know of) so I'm fine with that.

Seeing as the only ICE @natfriedman wants to talk about is his ice cave I've started making lists of things I need to do in order to move my stuff from @github. Sad that it's come to this, but it will be technically interesting and I'll feel better I suppose.

Nice of @github to prove that they do know how to email me by getting in touch about their livestream later today. Maybe @natfriedman could get someone to use that email address to actually reply to my original message about ICE that I'm still waiting on a response to 5 weeks later.

Currently reading

Station Eleven Emily St. John Mantel

29 days since I first contacted @github support about the ICE contract, and not a peep in reply to that or my follow-up email. Management really are just hoping that if they ignore the criticism it will just go away.

Finished reading

I Am Pilgrim Terry Hayes

Continuing my recent theme of releasing software I've just opened up Babbas (https://github.com/srushe/babbas) which powers my Indieweb Micropub media endpoint for my site. It's a ruby Sinatra app that I've been using for the last year.

Still waiting on @github to get back to me after contacting them about the ICE contract. Lots of good people in that company are being badly let down by how this is being handled. Looks like I am going to have to investigate hosting my own repositories again.